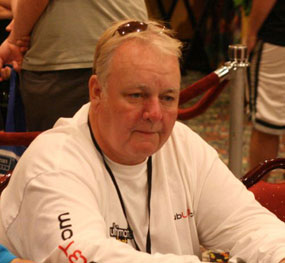 Russ Hamilton is definitely one of the more interesting figures in blackjack history because he's both a successful blackjack and poker player. In fact, it was the latter that got Hamilton started playing cards in the first place, and a college professor once told the Detroit native that he'd profit more from poker than school. So Hamilton started playing in underground poker games around the Detroit area, and was very good at it. This prompted him to move to Las Vegas, where a new game caught his attention.
Welcome to Blackjack
After moving to Las Vegas to play poker, Hamilton was quickly entranced by blackjack, and started playing the game heavily. Eventually, he teamed up with fellow blackjack pros Stanford Wong, Blair Rodman, Fred Davis and others. The players were not only successful in their card counting exploits, but also become quite the blackjack tournament players too. Unfortunately, casinos started barring blackjack pros from competing in tournaments, so Hamilton decided to cross back over to poker.
Back to the Basics
After resuming his poker career in the late 1980's, Hamilton experienced marginal success with the game. He managed to cash in a few poker tournaments, but nothing overly-impressive. However, this all changed in the 1994 WSOP Main Event when Hamilton etched his name into history after defeating Hugh Vincent heads-up to win the title. After winning the WSOP Main Event, Hamilton received $1 million and his body weight in silver; seeing as how Russ is a big guy, this was a lot of extra money!
Elimination Blackjack and Ultimate Blackjack Tour
Hamilton eventually got back into blackjack, and truly made a mark on the game by developing "elimination blackjack." Much like poker tournaments, elimination blackjack saw players compete in tourney format, and people were gradually eliminated as the event raged on. Hamilton showcased this style of blackjack on the Ultimate Blackjack Tour, which was televised and lasted two seasons. One truly unique thing about the Ultimate Blackjack Tour was that it involved a number of professional poker players who didn't normally play blackjack such as Phil Hellmuth, Antonio Esfandiari, Annie Duke, Jennifer Tilly and Johnny Chan.
Scandal
Despite all that he's done for the blackjack community, Russ Hamilton will forever be known as a cheat due to his involvement with the Ultimate Bet Poker website. Ultimate Bet was an online poker site that Hamilton was a consultant for, and he (along with others) developed a way to see their opponents' hole cards. Most accounts say that Hamilton was the biggest beneficiary of the $22 million that other players were robbed of. This being the case, he's lost all respect within both the blackjack and poker community.