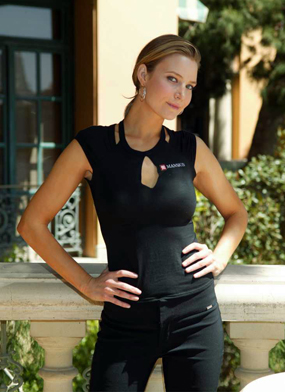 The typical blackjack stereotype is an overweight, middle-aged man with poor fashion tastes and a receding hairline. Erica Shoenberg certainly does not meet this stereotypical view of a blackjack player. In fact, the Akron, Ohio native earned the nickname the "Blackjack Babe" for her good looks and modeling career. But is Schoenberg really a blackjack legend, or just some model who happens to play a little blackjack on the side? Let's take a look…
Gambling Roots
Erica Schoenberg was introduced to cards at a young age since she learned poker and blackjack by age 5. After learning the game from her family, the future model would sporadically keep up with these two games while growing up.
After reaching her twenties, Schoenberg befriended a member of the MIT Blackjack Team, who then taught her the intricacies of card counting. Around the same time, the blonde also cashed in her first blackjack tournament, which earned her a nice $2,000 payday. Both events encouraged Schoenberg to pursue card counting and play in more blackjack tournaments throughout the years.
Ultimate Blackjack Tour and World Series of Blackjack 
As a model and blackjack player, Erica Schoenberg was a natural fit for the Ultimate Blackjack Tour TV show on CBS. On one episode of the Ultimate Blackjack Tour, the Blackjack Babe managed to corral a second place finish, which only furthered her fame in the game.
In addition to being on the Ultimate Blackjack Tour show, Schoenberg was also invited to play in the World Series of Blackjack in Season 2 and 3. She made a strong showing during Season 2 after moving into second place for a while; however, she eventually busted out of the tournament during the middle stages.
Welcome to Poker
Despite all of her success and reputability in the blackjack world, the surprising thing is that Schoenberg is best known for her days as a poker player. She quickly established herself here after finishing in 16th place in the 2006 WPT Championship, which resulted in a $117,165 cash.
The following year proved to be good to Schoenberg as well since she won the 2007 Mandalay Bay Poker Championship ($105,875), and took third in a 2007 WSOP $1,500 No Limit Hold'em tournament ($261,646). Since this time, Erica Schoenberg has continued to cash in at least a few poker tournaments every year, and has $825,982 in career poker tournament winnings.
Besides making her living through this game, poker is also where the Blackjack Babe met her husband and fellow professional poker player Erick Lindgren.