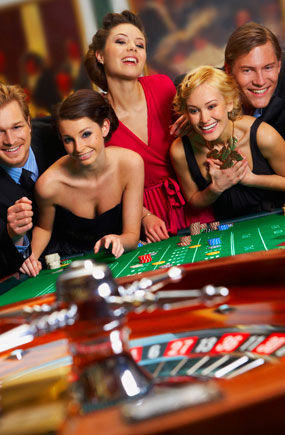 When some people think of crowded blackjack tables, they cringe because they don't want to deal with a loud and boisterous atmosphere while trying to play the game. But even if you don't like being around a bunch of people while playing blackjack, there are still some advantages you should consider first before refusing to sit down at a table with six other players. That being said, here's a quick look at those benefits.
You're Exposed to the House Edge Less
We all play blackjack with the intention of winning – despite the fact that the house still holds a 0.5% advantage over those who use perfect basic blackjack strategy. But no matter how bent you are on winning, you can't forget the small long-term house edge that the casino holds. With this being the case, the less blackjack hands you see, the more likely you are to be a winner when everything is said and done. And a crowded blackjack table offers the best chance for you to win because you're seeing less hands, and dealing with the house edge less.
The Social Aspect is at Crowded Tables
As we discussed in the introduction, some blackjack players hate being around a lot of fellow players. However, if you're the type of person who mainly likes casino blackjack because of the social aspect, then crowded tables give you a better opportunity to chat with fellow players and have a good time. Furthermore, you can all cheer together when the dealer busts out!
Card Counters benefit More
Those into card counting often find bigger blackjack tables to be to their advantage. One reason why is because more players means there's less of a chance that a successful counter will be detected by the casino staff. Aside from this, there are more cards dealt per hand, which is nice because it helps card counters get through a blackjack shoe quicker. And this means they'll be able to start raising their bets faster when the count is favorable.
There's a Better Chance of getting Free Drinks
Those who enjoy having a drink while playing casino blackjack should definitely consider crowded tables. The reason why is because casino waitresses frequently come around to more crowded tables because they stand a better chance of getting tips here. Now this may not make a huge difference in your overall blackjack experience, but it's just one more aspect to consider with playing at crowded blackjack tables.